We will pick you at stations, ryokans, and hotels etc.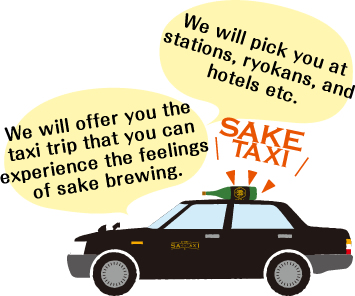 Why don't you take a trip to sake brewing in Kagawa? The brewing makes not only sake but also cosmetic and contributes to local. We will offer you the taxi trip that you can experience the feelings of sake brewing.
A guest who comes with Japan Railway

We will pick you up at Sakaide station, Utazu station, Marugame station,and Kotohira station.

A guest who stays in hotels.We will pick you up in a lobby at the hotel.

We recommend you to make reservation by one day before your departure because it takes time to get a taxi ready. If you reserve sake taxi service on your travel day, we might charge for extra. It depends on where we get a taxi reday.
Arranged course
3 hours course
2person 8,010yen

(16,020yen/taxi÷2person)

3person 5,340yen

(16,020yen/taxi÷3person)

4person 4,005yen

(16,020yen/taxi÷4person)

Kinryo
Kinryo was considered to be the scared sake of Kotohira shrine. Not only people is Kagawa but also people from outiside have drank this sake since Edo period. In this course, we will take you to place in Kotohira and factory in Tadotsu. You can enjoy seeing factory in Tadotsu and shopping at Kotohira.

Ayagiku
The establishment of Ayagiku is 1790.
They made sake with rice of Kagawa as raw ingredient. They still make sake with the same methods. The sake brewing is appointed as a tangible cultural property of Kagawa. It still has the same figure as old days. Please enjoy seeing a rich tradition and tequniques of Sanuki.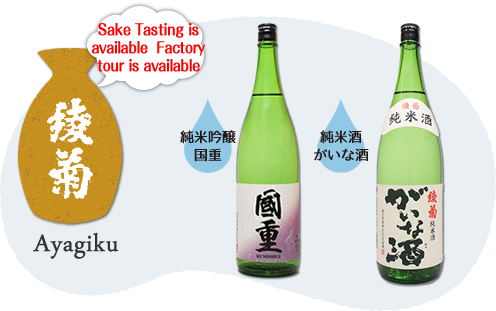 Yushin
using "rice power extract" born by bacteria science and a technique of the brewing fermentation, Yushin makes sake and produces cosmetics as well. You can enjoy Yushin's sake with meals because it has sweet flavor. In addition, Yushin can offer the new type of low alcoholic drinks made from ancient rice and black rice in Utazu,kagawa.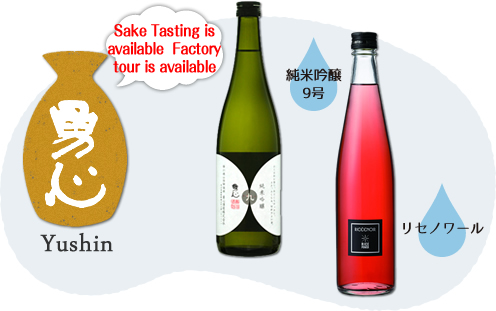 Basic course

Drivers who has passed sake exams will guide you!

We made original sake exam. What kind of rice is used to make sake? What is the name of sake brewing?
Example of sightseeing spots
KINRYO NO SATO

Kinryo has three main storage houses. One of them is located at Kotohira.This Kinryo Museum has been created here so visitors are able to see in detail how the original manufacturing facility worked. Please also enjoy tasting some sake and shopping.
Please visit the Kinryo no sato when you come to Konpira Shire.
Weekdays:9:00am to 4:00pm(last admission 3:30PM)/Weekends:9:00am to 6:00pm (last admission 5:30PM)

Zentsuji

Zentsuji Temple is the birth place of Kobo Daishi.

Roadside station Takinomiya

Udon Ice Cream is famous! This is only a place you can eat the ice cream!

Manno Pond

Japan's largest irrigation pond
Application for Sake Taxi
Please make a reservation by using the "Application Form" button below.