Kagawa Gastro Tours
~ Experience Japanese culture through food in Setouchi ~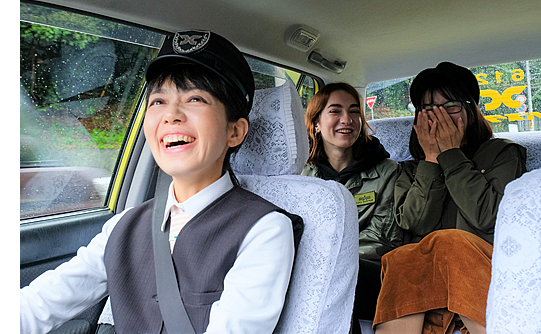 Kagawa Gastro Tours are a gateway to Kagawa prefecture and the larger Setouchi region. Whether a first-time visitor to Japan or a seasoned expert, each tour is designed to connect you with local people and culture through food. The Intro to Udon plan is a fully-guided exploration of all things udon.
Udon Beginners'Plan
※ Fully-guided tour
This is a fully-guided tour that introduces first-time visitors to the people of Kagawa through local food culture. The Udon Taxi picks you up at Takamatsu Airport and takes you directly to a local dining place for your first taste of Sanuki udon. At UDON HOUSE you'll learn how to make (and eat!) udon noodles, meet local farmers to select fresh ingredients, and spend your morning "udon hopping," which means tasting udon dishes at various local dining places. Udon for breakfast and sake tastings in the town of Kotohira? Absolutely! All you need to do is to take part and enjoy! You can also add the option of seeing the gorgeous sunset at Chichibugahama Beach.
Udon Beginners'Plan
57,800yen(Inclued) ※Child:Same price as adult

Day one

each place(pick up at 11:00) = Visit one to two Udon restaurants with an expert in anything Udon driving the Udon Taxi = Arrive at UDON HOUSE (Spend half the day learning how to make Udon from 13:00 to 19:00/Then spend the night right there at UDON HOUSE)

★Udon Class Part 1: (Introductions, learning the basics, kneading the flour into dough, Dough treading,)/ Part 2: (Soup stock, Umami tasting)/ Part 3: (sampling, chrysanthemum kneading)/field work(Visit local farms)/ part 4: (streatching out the dough/ cutting the dough)/ Part 5: (Boil the noodles in the large cauldron, Then we eat, eat, and eat!!)

Day 2

Udon restaurant hopping. (starting at 7:30)…UDON HOUSE (10:00) = KOTOHIRA TRIP BASE Kotori (11:00) … Explore the city of Kotohira (The driver will acompany you as you explore various locations such as a sake brewlry.) Visit the famous Konpira shrine, then some free time …Leave from KOTOHIRA TRIP BASE Kotori (14:00)=Visit Kamada Soy sauce (from 14:30 to 15:00) = Drop off service to the location of your choosing such as Kotohira, Sakaide, Utazu train stations or at your hotels etc. (around 15:30 to 16:00) Japans best sun set view Chichibugahama(※optional) If you wish to visit this beautiful beach you can ask the staff members at UDON HOUSE to take you there.

option

Visiting chichibugahama is optional. If you wish to visit Japans best sun set view then let the staff know on the day of your visit to UDON HOUSE. Due to the time of sunset, this option is only available during the summer. Please note that depending on wheather conditions and the timing of the tides this beautiful view may not be visible.

Click on the link bellow and follow the steps to make a reservation.
| | |
| --- | --- |
| Tour conductor | Will not be accopampanying you. The Udon Taxi driver and UDON HOUSE staff members will be guiding you through the whole experience. |
| Minimum number of participants. | 2 people (Please make reservations for 2 people or more) |
| Included items in the package Price | Transportation expences mentioned in the itinirary (Udon Taxi), UDON HOUSE (lodging, dinner, Visiting the farm, Udon restaurant hopping), a welcoming drink at Kotori as well as luggage storage and an originally made map) |
| Things not included in the Package price. | The meals at the Udon restaurants that you visit with the Udon Taxi. |
| Notes | This packages is only available with two or more participants. In principle the rooms (dormitory) will be gender-separated. |